To me, lighthouses are a special sign of home, not only because I grew up on an island in the Baltic: Their beaming light can be seen from afar, and it guides through the darkness. This was exactly what I had in mind when designing this pattern: May your Leuchtfeuer shawl warm and protect you – and shine, not only at night!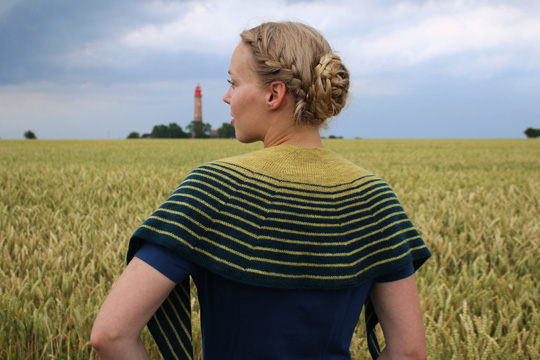 Leuchtfeuer is a symmetrical stockinette half-circle shawl, that looks equally pretty from both sides – yet no difficult techniques needed! The construction is easy: The entire shawl is completely knit in the round without a single purl stitch; as a last step, both edges are bound off together – that's all. The fold ensures that both sides lie on top of each other and produce a double texture that protects from cold wind and draft. I chose the simple yet effective stripe pattern because it reminds me of a lighthouse's light beam at night.
Leuchtfeuer was the September design for the "Miss Babs Knitting Tour 2014". I was taking the club members on a trip to North Germany to enjoy the wild beauty of its autumnal coastal landscape. So what would have been more obvious than making a stop at a lighthouse ("Leuchtfeuer" in German)?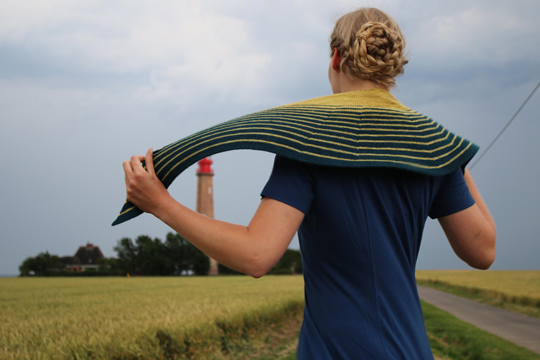 There are also millions of other options to use this pattern: Combine different colors, yarns and stitch patterns (e.g. Fair Isle…) the way you like – enjoy!
For further information please visit my ravelry page. Happy knitting!